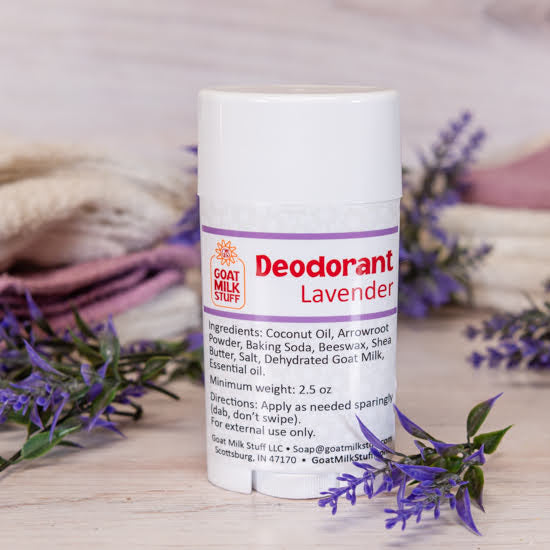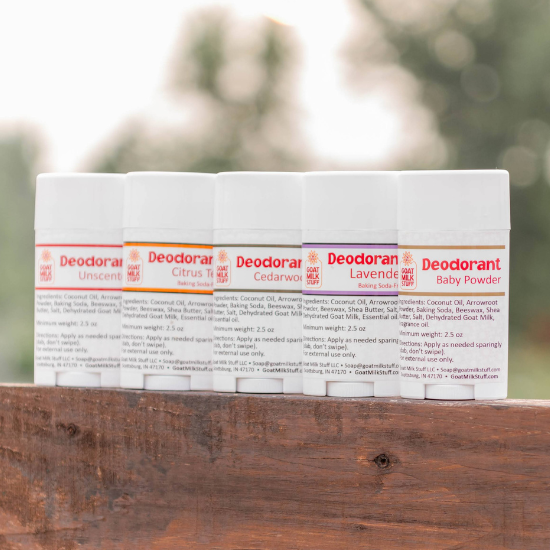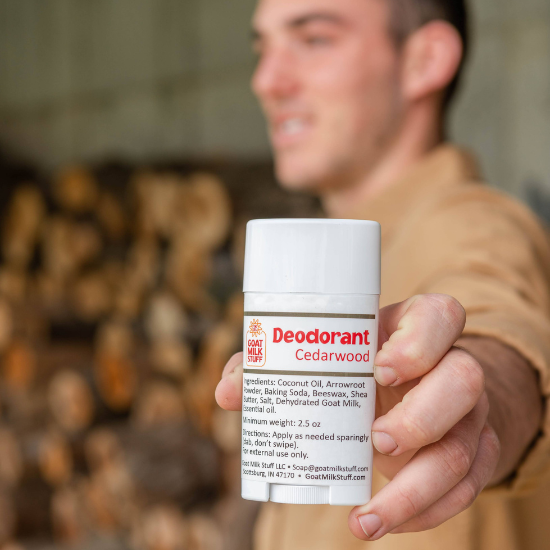 ["\n\n

\nNatural Deodorant Frequently Asked Questions
Does Natural Deodorant Work Effectively for Body Odor?

Goat milk on its own is antibacterial, which means it works effectively to reduce odor-causing bacteria over time. Baking soda, another ingredient used in some of our formulas, also reduces body odor by changing the pH of the underarm area and keeping it dry. (Arrowroot powder works the same way as baking soda but can be gentler for people with baking soda sensitivities as it absorbs moisture to keep odors at bay.) Most of our deodorants are scented with natural essential oils like calming lavender, invigorating citrus tea, or masculine cedarwood. And our fresh baby powder scent uses a paraben-free and phthalate-free fragrance for a nostalgic, clean, and pleasant scent.
Does Goat Milk Deodorant Stop Sweat?

Our Goat Milk Deodorant does not halt sweat because it is not an antiperspirant, but it is effective in reducing the odors often caused by sweat. Baking soda and arrowroot are also effective at absorbing moisture, without clogging your pores.
How Long Does Goat Milk Deodorant Work Before I Need to Reapply?

A little dab goes a long way. One application of Goat Milk Deodorant often lasts the whole day. However, if you are prone to sweating heavily, you may need to apply it more than once throughout the day to maintain that fresh feeling.
Will Goat Milk Deodorant Stain My Clothes?

If you dab instead of swipe, you shouldn't see any staining on your clothes. But if you use too much, you may see some residue, so tread lightly. When this happens, we find that washing in warm or hot water can melt the oils and help remove them from your clothes. A Goat Milk Stuff stain stick may be needed to remove particularly large quantities of excess deodorant.
Will This all-Natural Deodorant Cause Discoloration to My Armpits?

You should not see any discoloration in your armpits, but some people who have used antiperspirant for years may experience a rash when they first switch to our goat milk deodorant. To avoid this, we suggest reading our article about how to detox your armpits when switching to natural deodorant.